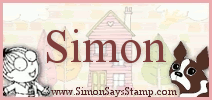 This week at Simon Says, we have a really fun challenge for you! There is a BINGO board, and you choose 3 items, either across, down or diagonal to put on your creation - almost more like TIC TAC TOE!!! If you head to the
CHALLENGE BLOG
, you can find the Bingo card and the Design Team's fabulous creations!!! Here is my card:
I used
FLOWERS
,
BRADS
, and
RIBBON
on my card. The papers are from a Card Kit swap I did awhile ago so I'm not sure what they are.....and the Tilda Unwrapped image you can get
HERE
.
Remember, if you join us this week, you get a chance to win a
$50 SPREE from
SIMON SAYS STAMP SUPERSTORE
!!!!
Wooooooooo hoooooooooooo!!!! So, what are you waiting for?? Go check out the Bingo card and come play with us!!!!!
Chris